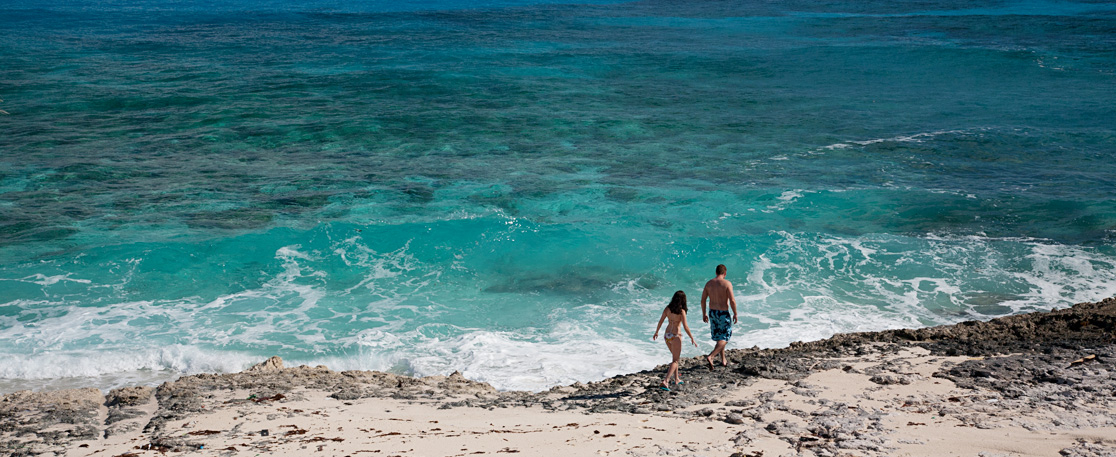 Long Island Landmarks
Long Island is rich with historical and natural landmarks.
Stop in to the Long Island Museum to brush up on the history, culture and customs of Long Island which is dotted with plantation ruins, pretty villages, historic cottages and groupings of tiny pristine white and bright blue Gothic churches at each settlement.
The thin 2-mile wide Caribbean island has the Atlantic Ocean on the Eastern side where the sea crashes into dramatic cliffs and where numerous pristine scuba diving and snorkeling coral reefs are located offshore in the sparkling ocean water. The western coast side enjoys plenty of shallow azure bays perfect for bird watching, ocean kayaking or just splashing and swimming around. There are numerous beautiful and secluded tropical island beaches each with its own quiet personality to suit a visitor's perfect private beach vacation or wedding destination.
Some of Long Island's best tropical beaches are the four grouped pink sand Love Beaches located on the Atlantic side east of Stella Maris Airport off of Ocean View Dr. There is a small shallow bay at one of these perfect for small children to frolic and play.
Just twenty miles south of Stella Maris sits Salt Pond, a thriving commercial business section for Long Island's salt production and lobster and fish processing plants.
Dunmore Town on Long Island offers authentic craft abd artwork stands and centuries-old churches. Named after a plantation—aptly named Dunmore Plantation—you can tour the ruins and relics of the old estate and the former slave plantation house built of limestone. Drawings depicting the sailboats used during the plantation era grace the walls of the former estate which used to grow sisal, cotton and pineapples. The pillars, thought to have been the remaining gateposts to the plantation, can be seen about a mile from the historical estate.
Artifacts and prehistoric cave drawings from the Lucayan Indian tribe—the first known settlers in The Bahamas—were discovered in Hamilton's Cave on Long Island. Visitors can explore the ancient cave system, view historical cavern drawings, and see the remains and relics of the early history of The Bahamas.
Clarence Town is a peaceful settlement that is very near superb snorkeling and scuba dive sites. Near Deans, is Turtle Cove, which has a fantastic tropical beach and turquoise shallows. This leads to a true jewel, however, just southeast, where one of the world's deepest blue holes (660ft) turns into the world's eighth-largest underwater caverns. The vestibule of the aquamarine hole opens up to a lovely Caribbean bay or cove flanked by magnificent white tropical beaches.
On the northern most tip of the island, North Long Island, there is a 15 ft tall stone obelisk memorial erected to Christopher Columbus. This area provides some stunning views and bright green exotic seas with some of the best Caribbean snorkeling and scuba diving abound.