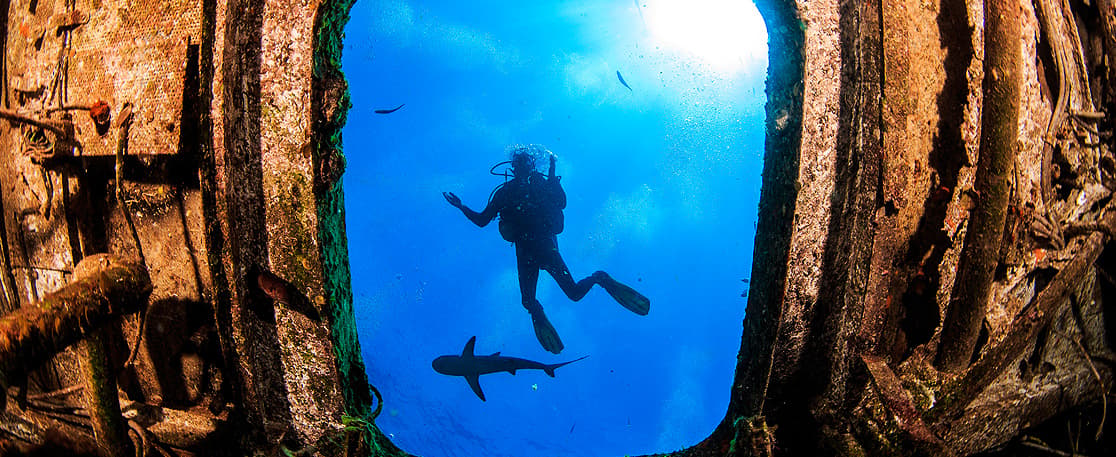 Diving Locations around Harbour Island
While it's small and quaint, the island offers two professional dive operations for dive services and snorkeling to explore the shallow reefs and shipwrecks. Current Cut (one of the most exciting high-current dives in the Caribbean) and a variety of deep reefs and walls are the most popular dive locations. Maxi-Caves is a historically great spot for comfortable cavern dives in the company of friendly groupers and barracuda.

Near Spanish Wells, a small island just off Eleuthera is the Devil's Backbone where there are many shipwrecks, just waiting to be explored. The Eleuthera Train Wreck offers divers the chance to explore Civil War era train wreckage, including a 1919 freighter, and a freighter that sank in 1971.
Top Diving Locations near Harbour Island
Split Reef: Large coral head, surrounded by sand; beautiful fan corals, large fish; canyon split and tunnel through entire reef; 45 feet.
High Head: Steep coral head plunging from 10 feet to 50 feet; superb for varying photography; large brain coral formations and anemones.
Fairyland: Finger reefs stretching from 20 to 30 feet; good for soft corals and sponges.
Black Shoals: A series of heads ranging from 25-35 feet; huge vase sponges, large morays, turtles and grouper abound in this area.
Places to stay when diving around Harbour Island
Valentine's Resort & Marina