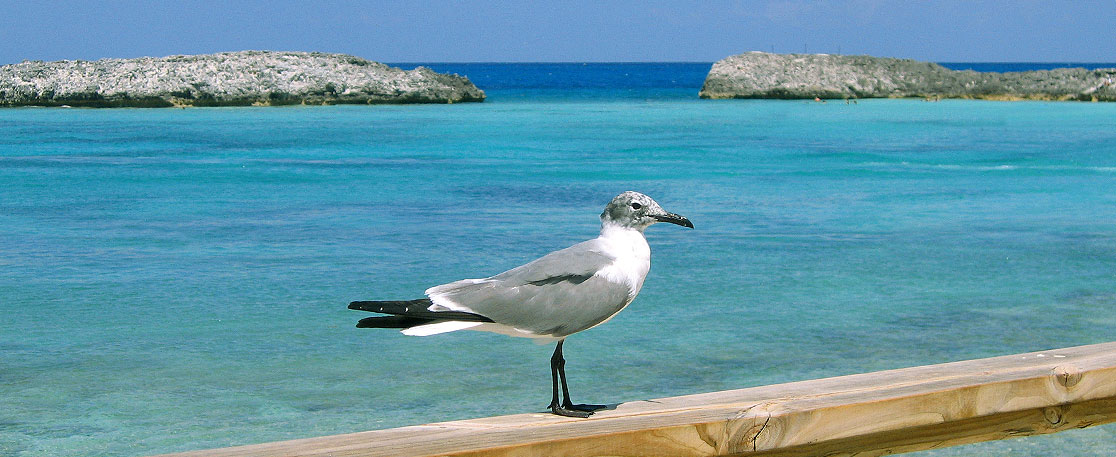 Notable Cays of the Berry Islands
Great Harbour Cay, largest of the islands, was originally developed in the mid-1960s, with a marina ringed with waterfront town homes and luxurious yachts. Its 18-hole championship golf course designed by Joe Lee made ii a favorite hideaway for the wealthy. It has seven continuous miles of beautiful beaches with one of the best-protected harbors in The Bahamas. Notable residents and visitors over the years include Brigitte Bardot, Ingrid Bergman, Earl Blackwell, Douglas Fairbanks, Jr., Dame Margot Fonteyn, Cary Grant, Curt Jurgens, Jack Nicklaus, Hugh O'Brian and the Rockefellers.
Big Whale Cay was formerly the exclusive retreat of millionaires Marion Carstairs who created her own little village with Spanish-styled buildings, winding roads, a church and museum, some of which remain today.
Little Whale Cay, once the home of Mr. Wallace Grove, is a bird sanctuary.
The settlement of Little Harbour Cay was founded by ancestors of Chester Darville, who currently runs Flo's Conch Bar and Restaurant named for his mother. Some of their original houses, built in the late 1930's and the early 40's, are still inhabited.
Great Stirrup Cay has an 1863 lighthouse and Williamstown, now abandoned, was established there during the reign of William IV.
Private Little Stirrup Cay is used by Royal Caribbean Cruise Lines as a one-day cruise stopover.
History of the Berry Islands
The Berry Islands were initially inhabited in 1836 by Governor Colebrook and a group of freed slaves at Great Stirrup Cay. It is believed that the islands were given their name because of the abundance of thatch berry trees found here. Historic sites include two lighthouses, old churches and abandoned villages.
Some of the cays had thriving industries in the past. Whale Cay was once the site of a sisal and sponging plantation. Cistern Cay was once a private development with an airstrip and marina, but is now just an uninhabited island left in ruins and has been stocked by the locals for hunting.