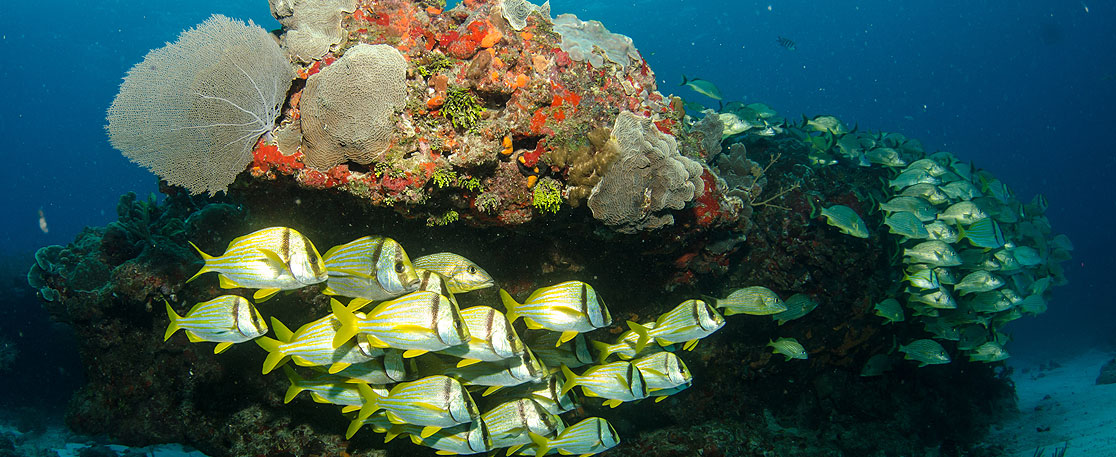 Scuba Diving in Bimini
Bimini is the closest and most accessible island for diving in The Bahamas.
Two dive operations run daily trips to a variety of shallow reefs, a few great shipwrecks, and unusual sites, such as what some believe to be the remains of the Fountain of Youth and the remains of the ancient civilization of Atlantis. Dolphin dives, riding the current over the edge of deep walls, shark dives and more allow visitors to choose from a broad menu of activities. The Sapona sits high and dry in only 15 feet of water, creating a great snorkeling and diving site. Operators also explore the Bimini chain of islands stretching south.
Top Bimini Dive Locations:
Bimini Barge: 100ft.An ocean-going barge sitting on a sandy bottom
Victories and Tuna Alley: 40-90ft. Sloping drop-offs with swim-throughs and caverns water
Little Caverns: Popcorn shaped coral heads on a sandy bottom with tunnels and swim-throughs
Rainbow Reef:25-35ft. Shallow ledges hiding nurse sharks, turtles, and more depths