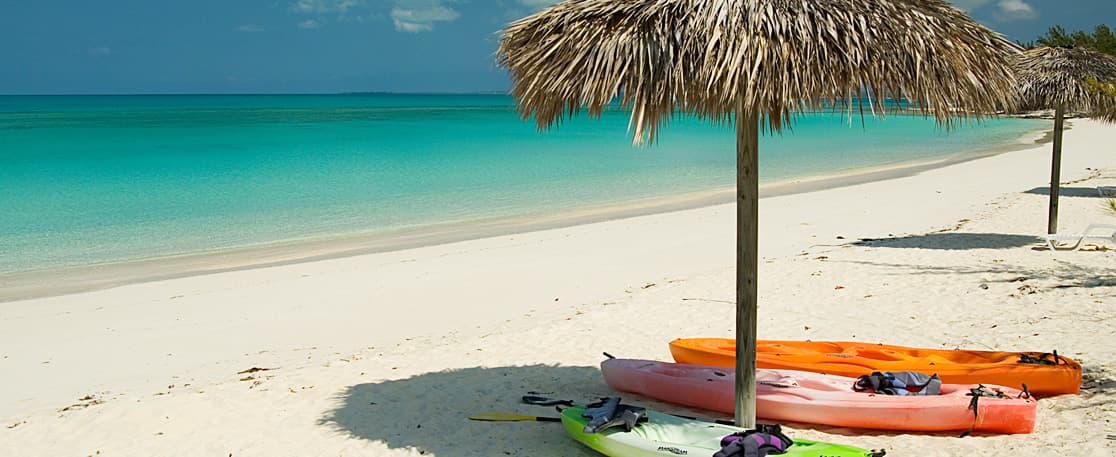 The best beaches of Cat Island are as secluded as the island itself
Fernandez Bay Village Beach
Located just North of the settlement of New Bight, at Fernandez Bay Village, this curvy tree-lined white-sandy beach is contrasted by the craggy iron shore that welcomes the spray of the surf.
Greenwood Beach Resort Beach
Located in Port Howe, just north of Columbus point near the southeast tip of Cat Island, eight miles of pink sand beach overlooks the Atlantic Ocean.
Hawk's Nest Resort & Marina's nearest public beach

Hawk's Nest is a Marina Resort, but there is a long sandy beach nearby which is located at the southwest tip of Cat Island near Devil's point.
Pigeon Cay Beach Club Beach
The three-mile long white sand beach at Pigeon Cay Beach Club is located near the settlement of Bluff in the northern third of Cat Island.
Sammy T's Beach Resort Beach
This private, secluded beach is located within a cove in Bennett's Harbour and is perfect for snorkeling, sailing or just lounging.
Old Bight Beach
Located in the village of Old Bight, these five miles of pure white sand is perfect for a quiet walk, a picnic, beach combing or just sunbathing.
New Bight Beach
The site of the annual Cat Island Regatta, New Bight Beach is a popular spot for locals, who have weekend dances and holiday picnics on the beach.
Other Cat Island beaches include
Fountain Bay Beach near Bridge Inn gets its name from an in-ground, natural fountain found in bushes near the bonefish flats. The mile-long beach ends in a shallow lagoon where you can snorkel in reefs right off the beach.
In addition explore these pristine Cat Island beaches:
Pine Bat Beach
Turtle Cove Beach
Alligator Bay Beach
Orange Creek Beach
Port Royal Beach
Oyster Lake Beach
Man O' War Point Beach
Camperdown Beach
North Shore Beach