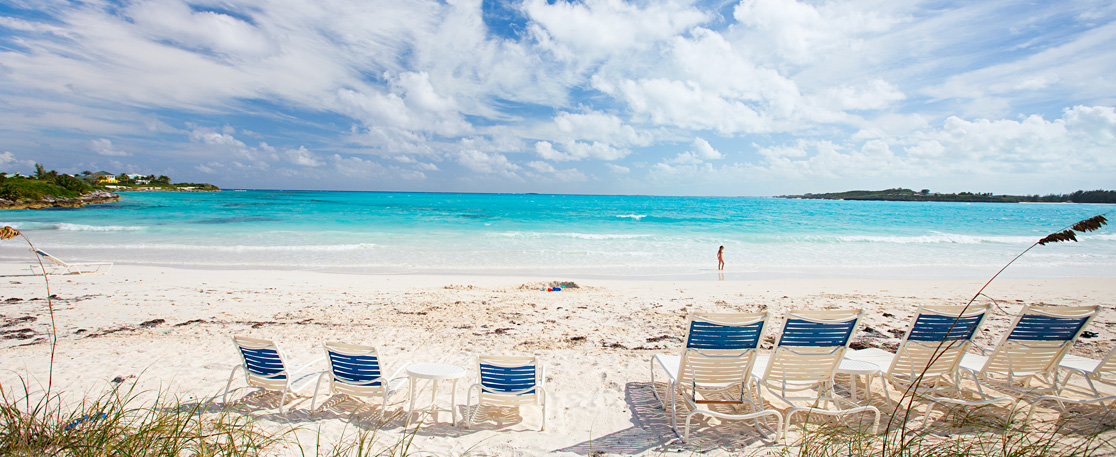 The Beaches of The Exumas
The best beaches of the Exumas are legendary while other secluded beaches wait to be discovered
Sandals Emerald Bay
A mile-long white powdery beach is surrounded by the calm turquoise waters of this 183-room resort in Emerald Bay.
Grand Isle Resort & Spa
The beautiful beach at Grand Isle Resort & Spa, Exuma's finest luxury villas, encapsulates outdoor living with sun, sand and astounding gin clear water. Enjoy our Undersea Water Park, an exciting eco-adventure snorkeling experience right off the beach.
Hotel Higgins Landing
The beach at this award-winning Bahamian eco-resort, the only hotel on Stocking Island, offers everything you would want to do on or in the water. You can snorkel, kayak and fish just off this white sand beach.
Tropic of Cancer Beach (aka: Pelican Beach)
Located on Little Exuma, just outside of Williams Town, Tropic of Cancer Beach, or its official name, Pelican Beach, has been called one of the prettiest in the Exuma chain. Snorkeling right off the beautiful beach is fantastic and always an adventure. You'll know you found it when you see a little hut with benches and the Tropic of Cancer name carved into the ramp down to the beach.
Three Sisters Beach
Located in Mt. Thompson, about 12 miles north of George Town, this expanse of white sand beach offers breathtaking views of the beautiful blue-green waters and of course the legendary rocky trio, Three Sisters Rock.
Jolly Hall Beach
A few minutes' walk from Exuma Beach Resort in George Town is this sandy, crescent-shaped beautiful beach.
Coco plum Beach
Just a short walk away from Grand Isle Resort & Spa, this white sand beach is dotted with beautiful palms. You can bring a picnic, but it's been said that the Coco Plum beach bar serves the best food on the island. This family-friendly beach is well-known for great shelling and searching for Sand Dollars during low tide.
Hamburger Beach/Volley Ball Beach
Lee Stocking Island is just a ten-minute ferry ride from the dock at George Town. Be sure to stop by Dora's conch & hamburger stand. Hmm, wonder why they call it Hamburger Beach?
Shroud Cay
The beautiful white sand beach on this archipelago is a stark contrast from the expanse of mangrove vegetation that surrounds it. Overlooking the beach on a hill is Camp Driftwood, made famous by a hermit who dug steps to the top leaving behind pieces of driftwood, to which people have been adding ever since. The current around Camp Driftwood creates a natural whirlpool that spins you right onto the powdery beach.
Exuma Cays Land and Sea Park
Scuba Diving and snorkeling are popular at this ecological preserve and wildlife refuge encompasses 176 square miles of pristine waters, land and beaches. Encounter nature first-hand by catching a glimpse of endangered Bahamian Iguanas.
Beaches of Staniel Cay
Two secluded beaches, Ho Tai beach and Pirate's beach with dunes and sea oats; incredible colors and reefs just off-shore.
Saddle Cay
Most of The Exumas are oval-shaped islands strung end to end like links in a 209km (130-mile) chain. One notable exception is Saddle Cay, with its horseshoe-shaped curve near the Exumas' northern tip. It can be reached only by boat, but once achieved offers an unspoiled setting without a trace of the modern world -- and plenty of other cays and islets where you can play Robinson Crusoe for a few hours if you like.
Stocking Island
Easily reachable by boat from Elizabeth Harbour, Stocking Island features one of the finest beaches in The Bahamas. Snorkelers and divers love to explore the islands blue holes, coral gardens, and undersea caves. At Chat N' Chill, you can savor a few tropical drinks, play some volleyball, and soak in the laidback atmosphere. Explore Chat N' Chill>>