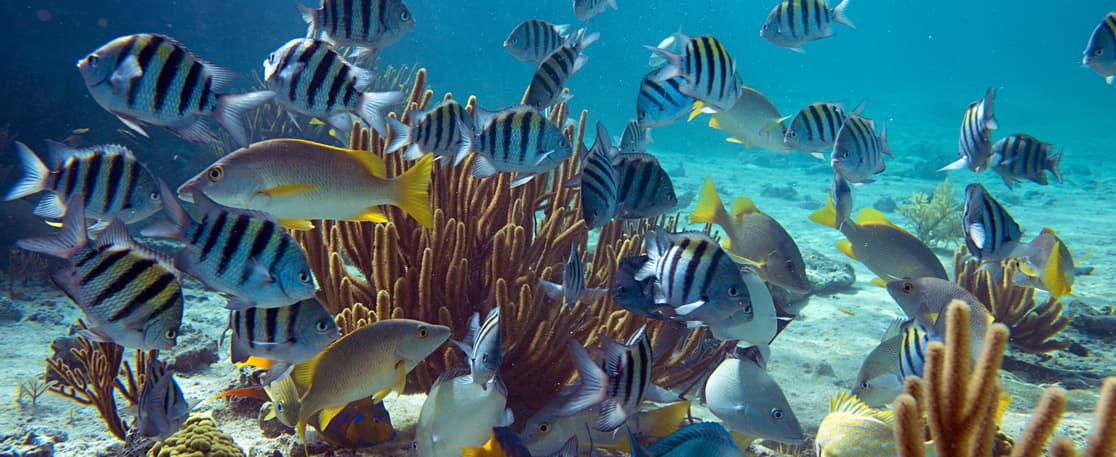 Diving in The Exumas
The Exumas consist of an array of more than 350 small islands and cays streaming down from just 35 miles south of New Providence to the anchor islands of Great and Little Exuma to the south. The northern islands present wonderful dive opportunities with an intriguing combination of walls and rich shallow reefs. The northern islands are the realm of live boards, and two New Providence operators, Stuart Cove's and Custom Aquatics, offer trips here as well. Two professional operations are on Great Exuma, Peace & Plenty and Exuma Dive Center, offering trips to shallow reefs as well as some perfectly defined Bahamas blue holes.
Top Diving Locations in The Exumas
Angelfish Blue Hole: Considered to be the number one dive for pure impact
Crab Cay Crevasse: 15-90ft.This crescent-shaped opening begins in just 15 feet of water
Elkhorn Gardens: Elkhorn Coral in 200-foot visibility
Exuma Land And Sea Park: Exquisite reef, blue holes, drop-offs, cave and cavern dives.
Lobster Reef: 45ft.A hot spot for schooling fish, lobster and other invertebrates
Pagoda Reef: 45ft. Noted for its spectacular, high profile coral formations
Stingray Reef: 45ft. Ideal for fish observation, with many different species represented
Where to stay while diving in The Exumas
Sandals Emerald Bay, Great Exuma
Staniel Cay Yacht Club - Staniel Cay, The Exumas
Embrace Resort - Staniel Cay, The Exumas
Popular Dive Operation
Staniel Cay Adventures offers a unique, boutique luxury Scuba Diving experience that is perfect for those who want to explore the stunning Exuma Cays. Our Discover Scuba program is perfect for anyone who wants to try Scuba diving for the first time, and we offer a range of packages that are perfect for couples, families, and groups. No crowds, no hassles, just the best diving the Exuma Cays have to offer!