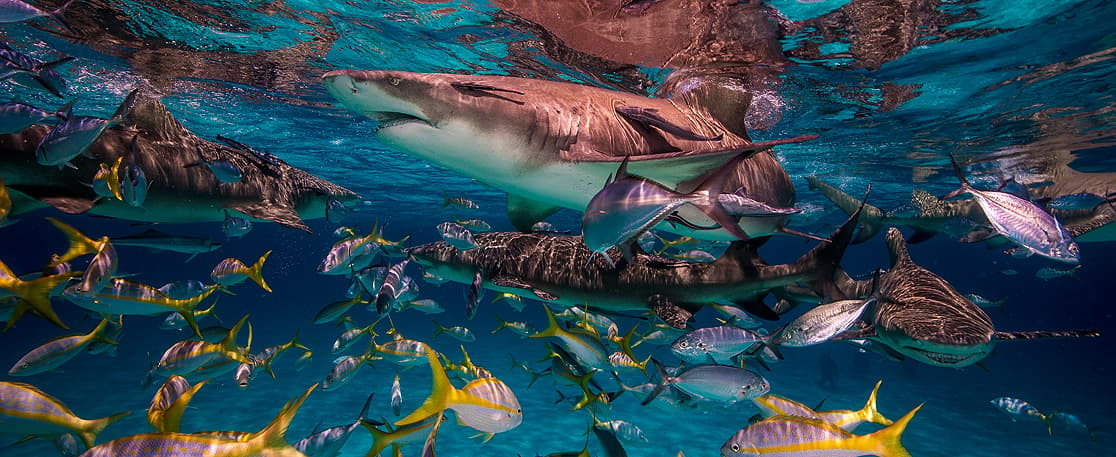 Diving in San Salvador
The Bahama Out Islands are a scuba divers' paradise, possessing a wealth of dive activities and styles, and San Salvador's history and pastoral development creates a perfectly exceptional bounty
Dive sites are mostly located on the lee side of the island where calm, clear waters with 150 feet or more of visibility are the norm due to the protecting reefs. High Cay, Low Cay, and Middle Cay are popular spots for both reef and wreck diving.
Cave diving is choice in San Salvador, where the past awaits visitors at several popular spots: Movie Caves near Fernandez Bay, Sandy Point Cave near Grotto Beach, and Double Cave near Sandy Point.
Popular reef dives include Pillar Reef near Riding Rock Point, Sponge World near Rocky/Polaris Point, and Vicky's Reef near Cockburn Town.
Beginning at a depth as low as 40 feet, wall dives, include the Cockburn Town Wall near Cockburn Town, Devil's Claw near Long Bay, Grouper Gully near Fernandez Bay, Hole In The Wall near Long Bay, Riding Rock Wall near Riding Rock Marina, Shark Alley near Long Bay, and Stewpot near Riding Rock Marina.
Famous wrecks include Brig Enterprise Wreck near Green Cay which sank in 1832, Columbian Wreck near North Point which sank December 25, 1980, Frasgate Wreck off Bonefish Bay which sank January 1, 1902, Hinchinbrook Wreck near High Cay which sank July 19, 1913, Schooner Wreck near East Beach, Unknown Wreck near Low Cay, and Yacht Wreck near Nancy Cay which sank 1977.