Things to do at a Bahamian blue hole
Feb 06, 2017
Options for travelers with and without an adventure streak
In an ocean blue hole, the story is pretty simple: you can snorkel above or dive deep inside. For an inland blue hole, there are several other options. Once you arrive, for example, the picnic can begin. The shoreline is often rocky, but still walkable and suitable to sit and enjoy a bite to eat. At some blue holes, you'll actually find picnic tables or build up gazebos and maybe even a stone grill. While you're there, you can play out your National Geographic inspired fantasies and marvel at the geological intricacies, which could mean professional nature photography or professional selfie-taking. Of all the things to do, the most rewarding is to swim in the cool fresh waters of Bahamian blue holes.
Blue hole legends
We'll admit, not everyone enjoys these mythical bodies of water like us. The tall tales told by grandmothers and grandfathers of Lusca, the legendary monster with a shark head and an octopus body who lives beneath the depths, keep many Bahamians away. But if you are brave enough to defy grandma then you are in for a reward. Swimming in a blue hole is as refreshing as it is fun and adventurous.
Getting there
The first part of exploring a blue hole is the adventure of getting there, which is different for ocean blue holes and inland blue holes. To reach the average ocean blue hole you need a boat: Dean's Blue Hole in Long Island is the most notable exception. At Dean's Blue Hole you walk from the beach through the shallow water and in no time you are floating above the abyss.
Reaching an inland blue hole usually means off-road travel or hiking. In North Andros, you need a four-wheel drive vehicle to navigate the seemingly endless pine forests that lead to Captain Bill's and Cousteau's Blue Holes. To reach Rainbow Blue Hole, on the other hand, you need to trek through a coppice forest on a winding nature trail. The marked native trees make the hike scenic and educational.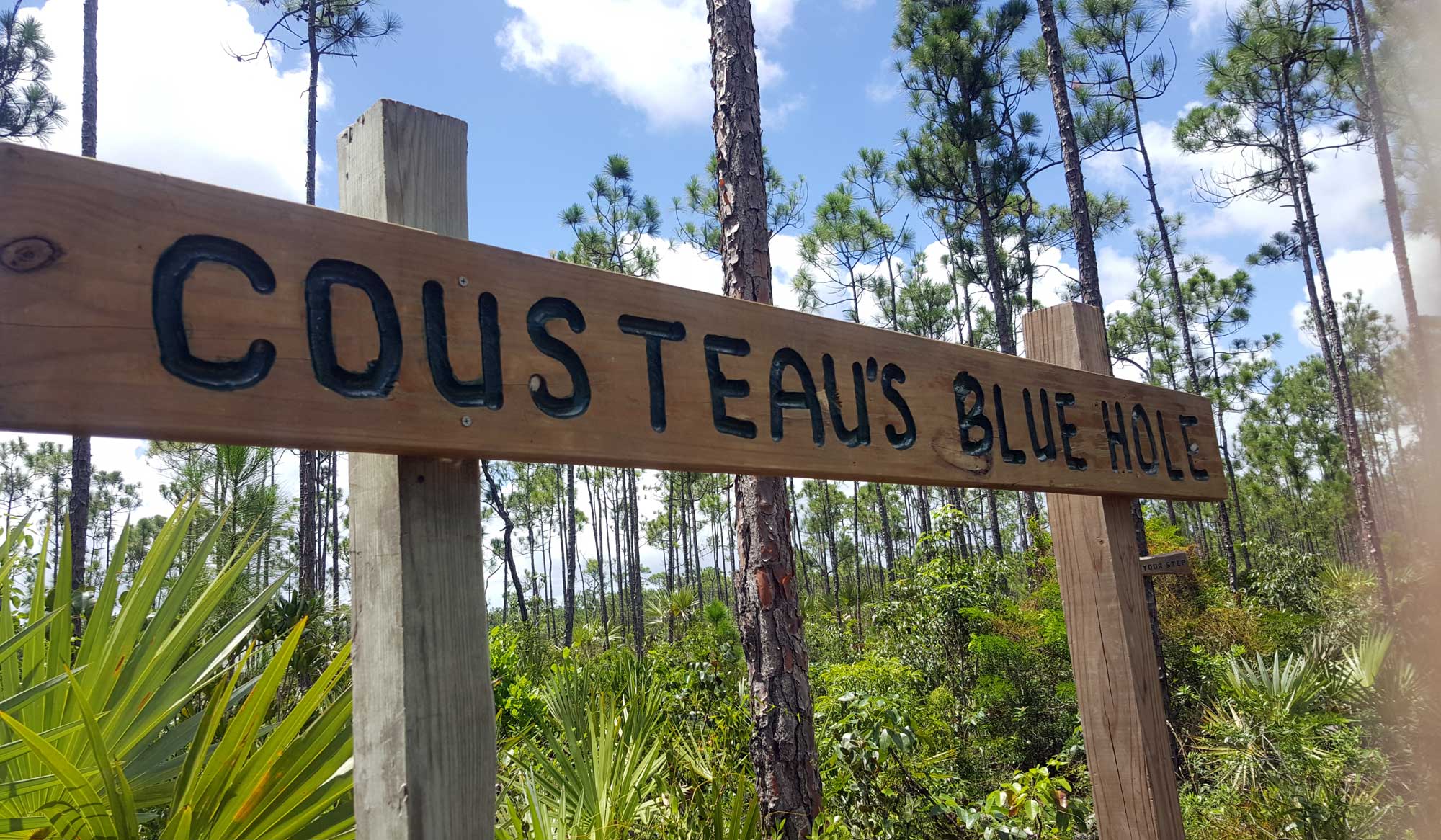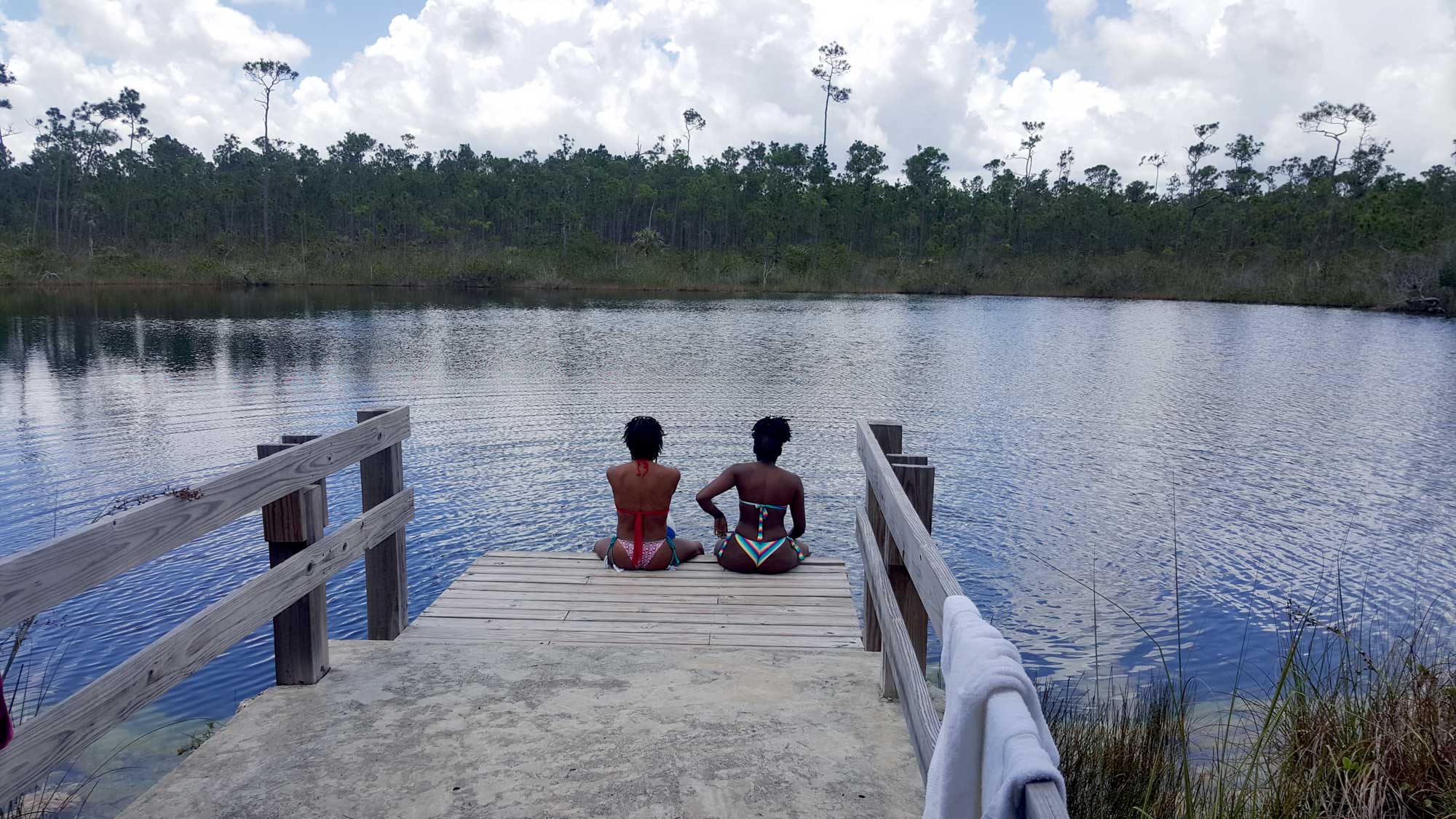 Useful blue hole accessories
We highly recommend you bring pool noodles or beach floats for swimming purposes. Fresh water is less buoyant than saltwater, which means you'll expend more energy treading water and staying afloat. It helps to have a float so you can relax a while and enjoy the cool water. Sometimes we stay close to the water's edge, but we also venture to the very centre and beyond; it just depends on our mood and how chicken our friends are. No matter how far we go, it always makes it easier to have a float. If you venture out, do try to open your eyes underwater; beneath the surface, it really does feel like the great abyss; spooky and exhilarating all at the same time.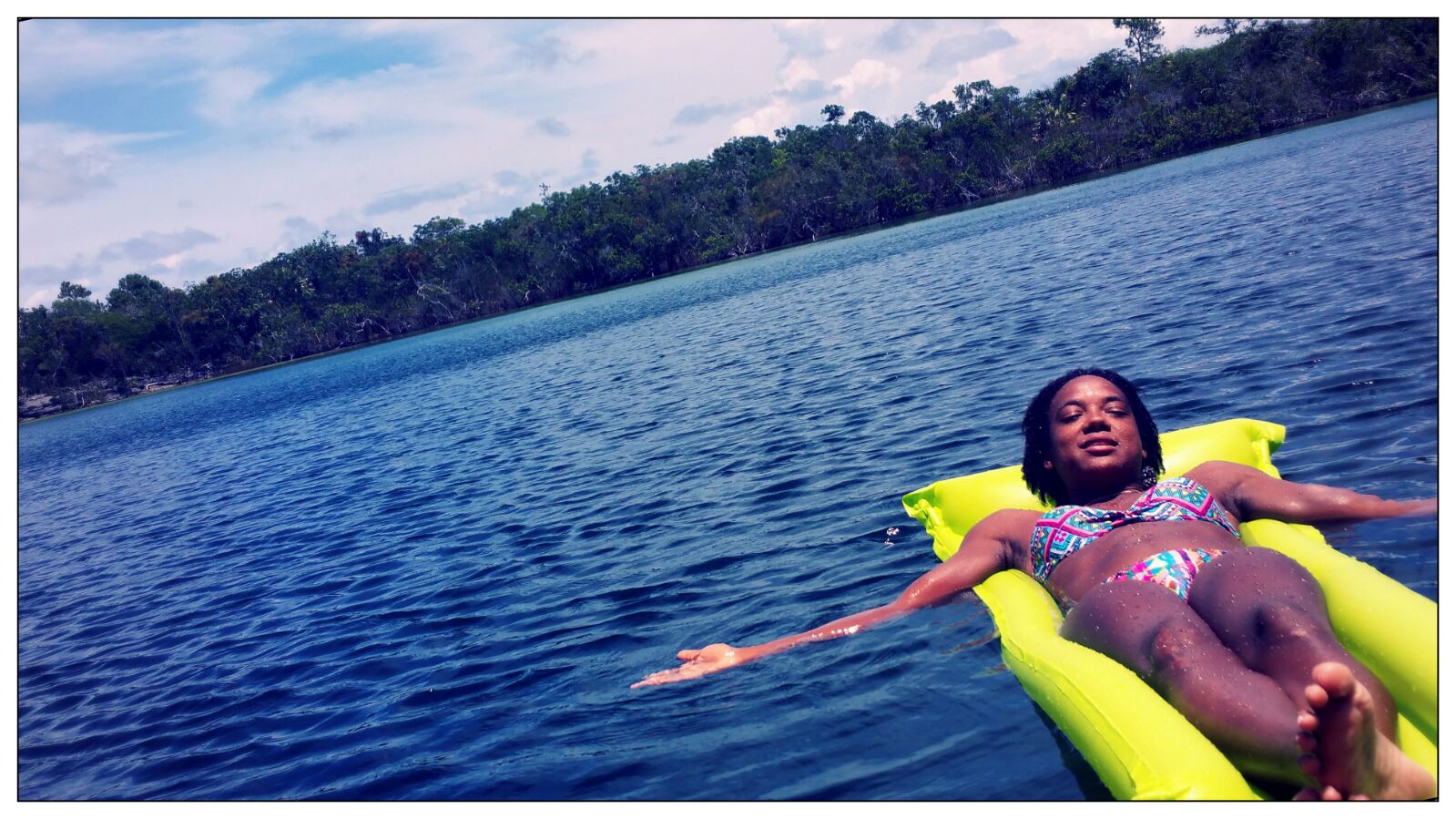 Extreme swimming
At each blue hole, getting in and getting out works in different ways. Obviously, you should consider this before you go for a swim. Many blue holes have built up docks with ladders or stairs, but others require more extreme measures.
Sapphire Blue Hole in North Eleuthera is an off the beaten track blue hole that is the most menacing of them all. It happens to be a personal favorite. To get in you have to jump from a 30-ft cliff. To get out you have to scale a wall assisted by a knotted climbing rope. This blue hole is not for children and not for the faint of heart. This kind of difficulty is matched only by cave diving. This is an activity reserved for highly trained and certified divers. We couldn't speak to this personally but can point you to National Geographic's cover feature on these underwater wonders that tell geological stories and hold ancient treasures.
Mainstream blue holes
Not to worry, swimming in most blue holes, especially the most popular ones, is no extreme sport. At the Treasure Cay Blue Hole in Great Abaco, you can fly from a tree swing and cannon ball inside the blue hole. The perimeter is barely a foot from the water, so you can just as easily step inside.
At some blue holes, you can enter right from the beach. At Dean's Blue Hole in Long Island, there is a cliff you can jump from, but there is also a shallow beach where you can wade across the gently sloping sand practically straight to the underwater ledge. From there you can launch your swim over the deep blue. At Cousteau's Blue Hole in Andros, where there is a Blue Holes National Park, you can simply ease inside the blue hole from a surface-level dock. If you sit at the dock your feet will dangle into the cool fresh water. There is a wooden gazebo with seats to provide shade and space for socializing.
Discover other things to do in the Out Islands of The Bahamas.