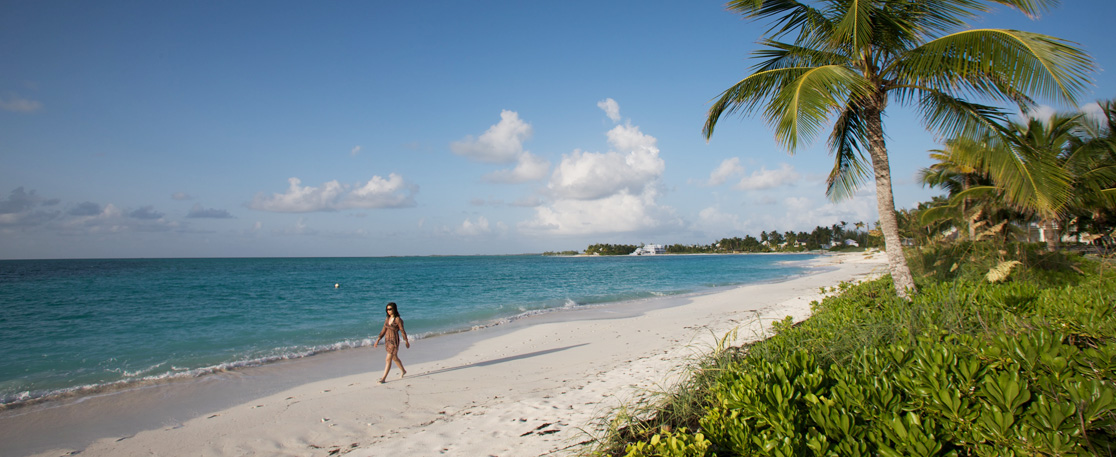 The Beaches of Abaco
In The Abacos alone there are as many spectacular stretches of sand as you'd find in any country that considers itself a world-class beach destination.
Treasure Cay Beach
This renowned beach has some of the finest, whitest sand on earth fronting the brilliant turquoise of the Sea of Abaco. This gorgeous 3.5 mile stretch of beach was voted one of the best 10 Caribbean beaches in a Caribbean Travel and Life reader's poll.
Pelican Beach Villas Beach
These private beachfront villas are located on a private peninsula on Great Abaco, just outside of Marsh Harbour.
The Abaco Club on Winding Bay
This secluded, private beach club on Winding Bay affords its guests spectacular views of the Atlantic Ocean. Learn to windsurf, explore the shallow depths snorkeling or in a glass bottom kayak or just chill under a thatch beach umbrella.
Guana Cay Beach
Guana Cay has an incredible seven-mile-long beach that spreads out below a tall dune that offers breathtaking views of the tropical Atlantic.
Tahiti Beach
Just south, on Elbow Cay, visitors in the know head to Tahiti Beach (accessible only on foot, bike or by boat), a secluded gem of soft white sand that arcs out into calm clear water ideal for swimming. You're guaranteed to find a stretch of beach to call your own.
Ocean Beach
Located on the eastern end of Abaco, Ocean Beach has all the activity you'd expect of a tourist beachfront. There's plenty to do, including: windsurfing, diving, fishing and sailing. Enjoy beach bars and restaurants, local entertainment and lots of sand and sun.
Sandy Point Beach
Sandy Point Beach is located on the southwest tip of Great Abaco. Just 40 miles south of Marsh Harbour, Sandy Point Beach is also renowned for its large number of seashells.
Gilliam Bay Beach
This beach is protected from the wind, and within a 15-minute walk from the main town of Green Turtle Cay.