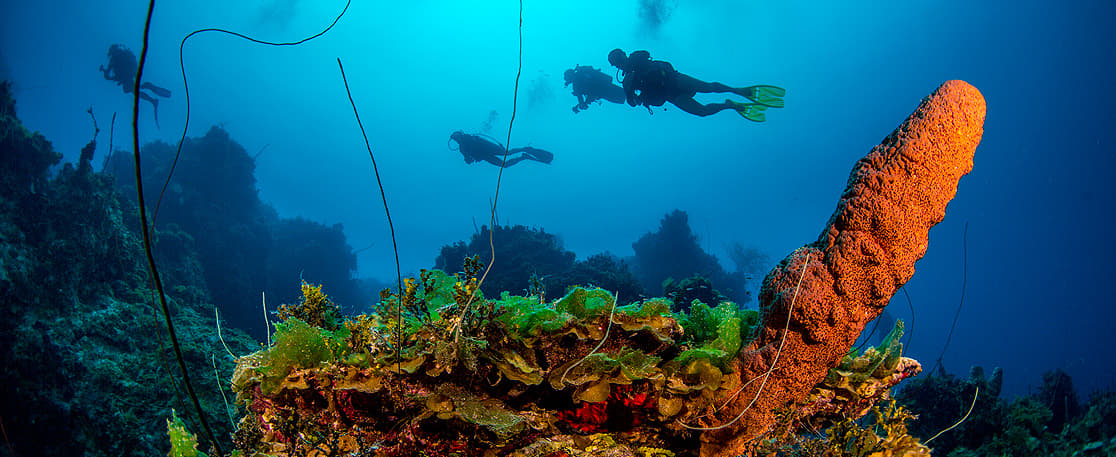 Scuba Diving in The Abacos
Directly exposed to the Atlantic, the reefs of The Abacos take a different form from much of The Bahamas. Many sites are relatively shallow, 60 feet or less. Subjected to slightly cooler temperatures during the winter, they are just on the edge of what hard corals require to survive. The general form of the fringing reefs is an ornate, extinct coral base with a healthy top growth of Star and Elkhorn corals. The base reef has been etched out by tidal flow to form a maze of interconnecting tunnels and cathedral-like caverns.
Professional dive services are a given in The Abacos. Walker's Cay, the northernmost island, has been an Out Islands' diving tradition for decades. In addition to the myriad of shallow and complex caverns, an abundance of fish and some deeper sloping walls, Walker's Cay features one of the most unique shark dives in The Bahamas. Groups of up to 150 sharks gather at the sound of the dive boat's engines in a coral arena to feed on the bait while divers mingle with them. Some refer to this as an underwater cocktail party.
Green Turtle Cay features shallow reefs as well as superb fish life, one of the earmarks of The Abacos. There is a huge selection of sites for snorkeling and diving at Marsh Harbour. Maxi-Caves is a historically great spot for comfortable cavern dives where you'll find friendly groupers and barracuda. Treasure Divers has a full, PADI certified dive operator located at Treasure Cay Marina.
Top Abaco Dive Locations
The Towers: Huge coral pinnacles 60 feet tall, pierced with tunnels and caverns
Grouper Alley: 40ft. Numerous tunnels beneath a monstrous coral heads
Wayne's World: 70ft. A tour of the outside of the barrier reef
The Cathedral: Huge cavern where shafts of sunlight dance on the floor
Tarpon Reef: High profile corals for a school of Tarpon and a huge Green Moray
Coral Caverns: A series of winding caverns filled with clouds of shiny Silversides
San Jacinto: 40ft.The wreck of a large steamship sunk in 1865
The Catacombs: A shallow sun-splattered cavern with abundant tropical fish
Where to stay while diving in The Abacos
Green Turtle Club Resort & Marina- Green Turtle Cay
Treasure Cay Beach Marina & Golf Resort
Pelican Beach Villas Marsh Harbour
Abaco Club at Winding Bay - Winding Bay, Great Abaco
Leeward Yacht Club - Green Turtle Cay
Bluff House Resort - Green Turtle Cay
Seaspray - Elbow Cay