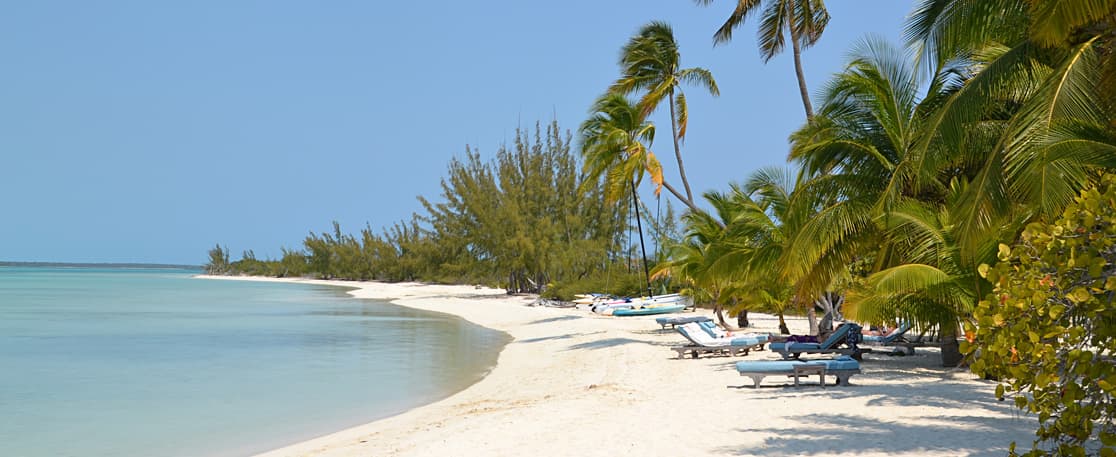 The Beaches of Andros, The Bahamas
The natural wonderland of The Bahamas, Andros is home to beautiful, natural beaches
Small Hope Bay Beach
Located just 10 minutes from Andros Town in North Andros, this lovely sandy beach is the perfect complement to lazy coconut tree hammocks and the laid-back atmosphere of Small Hope Bay Lodge.
Tiamo Beach
Located in South Andros, this coconut tree-lined, white sand pristine beach is a fitting welcome for guests who seek a Caribbean beach vacation with natural activities.
Love Hill Beach
Seemingly stretching for miles, this white sand of Love Hill beach leads to Stanyard Creek, a settlement affectionately dubbed the "Garden of Andros" because of its lush vegetation and coconut trees.
Summer Set Beach
Summer Set Beach gets its name from the millions of shells lining its shores that resemble the setting sun. Over a mile long, Coconut trees and casuarinas fringe this beautiful Bahamian beach.
Nicholls' Town Beach
Located on the northeast tip of North Andros, this half-mile strip of powder soft and pearl white sand is the pride of the Nicholls' Town.
Pleasant Bay Beach
Located on the southernmost tip of the island, Pleasant Bay Beach is home to the annual Coconut Festival held every Independence weekend in South Andros.
Regatta Village
This beach is located at the tip of Andros in Morgan's Bluff. Every July, hundreds of Bahamians and international tourists gather on the beach to watch, and participate in the Annual All Andros and Berry Island Regatta. The site also serves as the location for the islands Sea Food Splash Festival that is held every October.