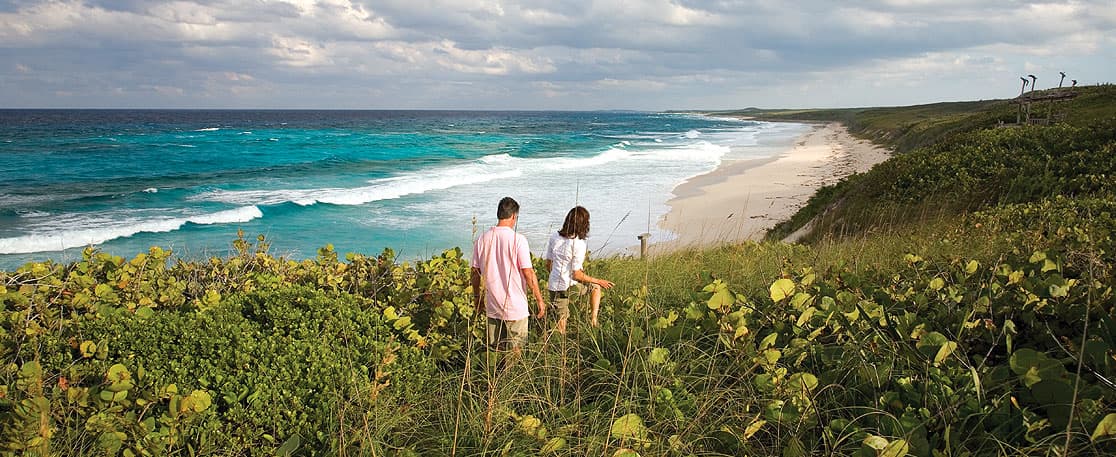 The Beaches of Eleuthera
Eleuthera's unspoiled and exotic beaches are among The Bahamas' best kept secrets
While Harbour Island has become well known for its Pink sandy beaches, few know that the pink sand also spreads along the coast of Eleuthera, blessing it with several blushing beaches, most notably Surfer Beach to the North and Lighthouse Beach at the Southern tip of the island.
Cape Eleuthera Resort Beach
Located on a 4,500 acre private, secluded nature and beach preserve on the tip of southwest Eleuthera, Cape Eleuthera is surrounded by uninhabited wilderness and 18 miles of shoreline with multiple beaches.
Preacher's Beach
This beach is located minutes from North Eleuthera. Wind your way down a sandy grassy path overgrown with sea grapes to find a favorite picnic spot after exploring Preacher's Cave, one of North Eleuthera's best-known landmarks. The color of the water from this spot is heavenly.
French Leave Beach
One of the handfuls of pink sand beaches on Eleuthera, beautiful French Leave Beach is located just outside of Governor's Harbour.
Lighthouse Beach
This beach is located in South Eleuthera near Cape Eleuthera and is known for its miles of unspoiled pink, soft, sandy beaches, as well as an old lighthouse located on a dramatic limestone promontory overlooking the ocean.
Surfer's Beach
This beach is located 2 miles from Gregory Town. The hang ten set also knows that Eleuthera is a hot wave-riding destination, with Surfer's Beach drawing sun-bleached guys and gals to its island break.
Ten Bay Beach
This beach is located 9 miles south of Governor's Harbour in Savannah Sound. It is naturally shaded by large casuarina trees in the morning, but a sun lover's paradise on a warm Bahamian afternoon.
The Beach at Pineapple Fields
Located near Governor's Harbour the beach at Pineapple Fields offers spectacular views and Tippy's, a one-of-a-kind restaurant and beach bar that one can sit, have a Kalik or lemonade and take in the awesome view.
Other Eleuthera beaches include:
Authur's Beach
Deep Creek Beach
Gauldings Cay Beach
Holiday Beach
James Cistern Beach
North Palmetto Point Beach
Paradise Beach
South Palmetto Point Beach
Windemere Island Beach
Winding Bay Beach