honeymoons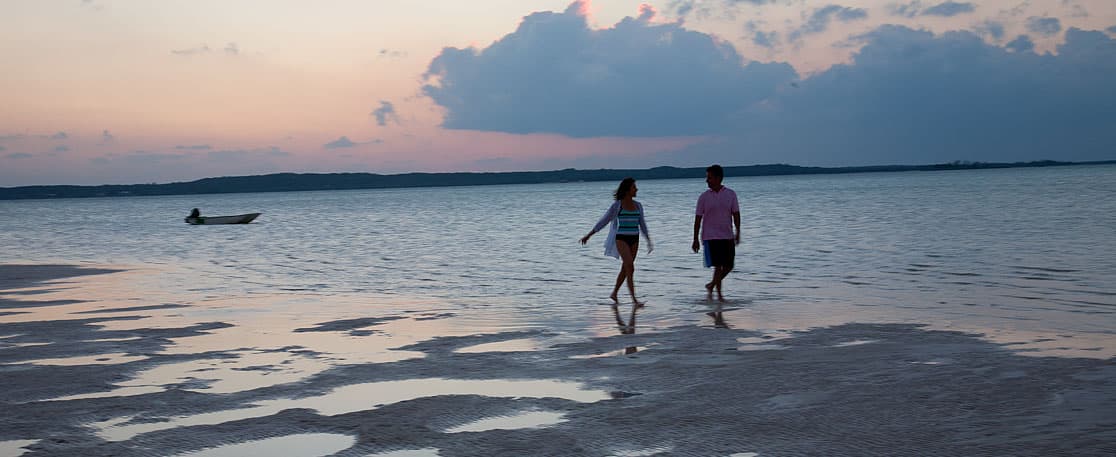 Honeymoon in The Bahamas' Out Islands
The Out Islands provide the most romantic honeymoon destination a couple could ask for.
Secluded romantic beaches. Private beach bungalows. And time to spend alone with the love of your life, making memories for a lifetime. This is the Out Islands of The Bahamas, made for newlyweds seeking a unique Caribbean honeymoon destination to reconnect with one another and to appreciate and experience the natural surroundings on these secluded islands. Most of all, it's a place where all that stress from wedding planning will wash away with the afternoon tide.
Equally unique and wonderfully diverse is the wide range of Out Island hotels, resorts, inns and rental properties to choose for your romantic Bahamas honeymoon destination. Many of these resort properties cater especially to newlyweds, and provide romance, bridal and honeymoon packages. From packing a picnic for your kayak adventure to making sure the champagne is chilled and awaiting your arrival, your hosts are waiting to take care of your every need and to make your very special time together perfect and unforgettable.
The Bahamas' Out Islands is the Best Place to Honeymoon
Couples seek out the secluded islands of the Out Islands of The Bahamas so they can experience alone time, where they can walk hand-in-hand on the beach knowing the only footsteps are their own, and the only sounds they'll hear are from the waters of the Atlantic splashing against the pink or white sand beach. Many couples seek out the Out Islands of The Bahamas as their honeymoon destination because of the privacy it offers in a beautiful tropical location. Others want to combine quiet time with adventures exploring together the caves and hidden cays, golfing at great courses, diving into the blue holes or fly fishing from the flats.
That's what makes the Out Islands of The Bahamas a top honeymoon destination. You can do all that, or absolutely nothing at all. Every one of the Out Islands of The Bahamas offers something a little different. In addition to the honeymoon packages, many of the resorts and hotels have top honeymoon destinations and romantic getaway excursions all planned out, so all you have to do is show up.
It's no wonder so many couples celebrate their Caribbean honeymoon in the Real Bahamas, where they can linger inside a private beachside bungalow and feel the breeze from the palm-tree fringed ocean and then stroll on silky sand beaches as the sun sets. There are so many experiences waiting to be had. Snorkeling, diving, hiking, kayaking, fishing and exploring the beaches and natural wonders of these 700 unique tropical islands. So many stories waiting to be told. These are the Out Islands -- the real Bahamas, where your picture-perfect dream honeymoon can come true.