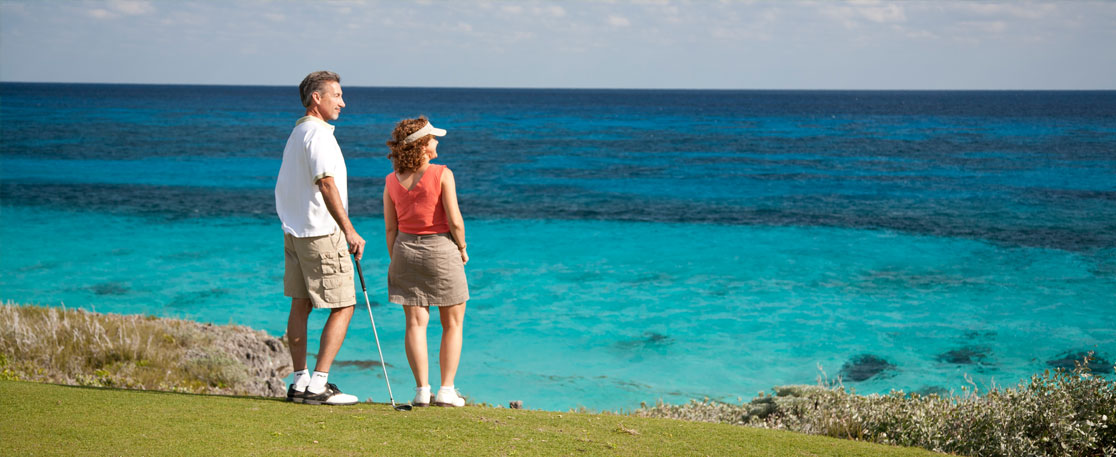 Golfing in the Out Islands of The Bahamas
Challenge Yourself in the Bahamas Out Islands at any one of our Three Championship Golf Courses in Great Exuma and Great Abaco Islands
Whether golf is your passion, or a family pastime, you will develop a love/hate relationship with the courses in the Out Islands. There are three challenging, ocean front championship-designed golf courses: The Abaco Club at Winding Bay on Great Abaco Island; Treasure Cay Golf Club on Great Abaco Island; and the Grand Isle Resort and Spa on Great Exuma Island.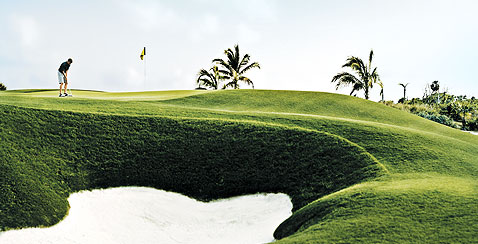 The Abaco Club at Winding Bay (a Ritz-Carlton managed property), The Abacos
The private golf course at The Abaco Club is the debut of the world's first Scottish-style links course in a tropical location. Designed by Donald Steel and Tom Mackenzie, the Abaco Club offers a 7,182-yard course that continues to get rave reviews for its beauty and drama year after year.
The resort - developed by Peter de Savary, who is known for his courses in Bovey Castle in England, Carnegie Abbey in Rhode Island and Cherokee Plantation in South Carolina - was carved out of jungle and rocky terrain along the island's Atlantic Ocean shores. With each of its 18 holes blending into the natural setting of the Caribbean, the Abaco Club attracts golf enthusiast and professionals alike to its par 72 championship layout. The 18th hole alone is a wonder to behold, set along the shoreline 60 feet above the crashing surf.
This $250 million, members-only retreat offers guests an opportunity to play the course once before joining. Membership begins at $75,000.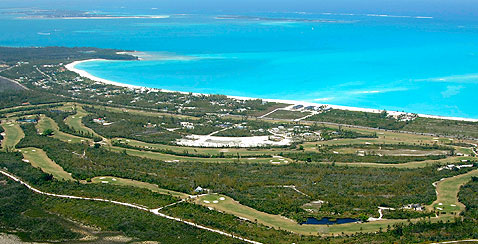 Treasure Cay Golf Club, The Abacos
Designed by Dick Wilson and completed by assistant Joe Lee upon Dick's passing in 1968, this 18-hole, par 72 golf course offers narrow fairways, unpredictable ocean winds, sand bunkers and even duck ponds, all combining to make Treasure Cay Golf Club a challenging course in the midst of breathtaking tropical beauty.
On the links, you'll find the front nine runs parallel to the ocean at the north end of Treasure Cay Resort. There are two par fives of 555 and 500 yards. The back nine is tighter, requiring more precision and thought with slightly more water in wait. A couple of duck ponds and interesting wildlife offer minor hazards, particularly on number 11, a 515-yard par five.
The course is 6,985 yards from the blue tees with 66 sand bunkers. Despite its length, Treasure Cay can be played in less than three hours. Golf carts are available, but this is also a great walking course. And here's a real surprise. You don't need a tee time to play at Treasure Cay Golf Club - just show up with your golf clubs or rent clubs from the pro shop!
Treasure Cay Golf Club is located at the Treasure Cay Hotel Resort & Marina. Golf packages include unlimited golf, a shared power cart and round-trip transportation between Treasure Cay International Airport and Treasure Cay Hotel Resort & Marina.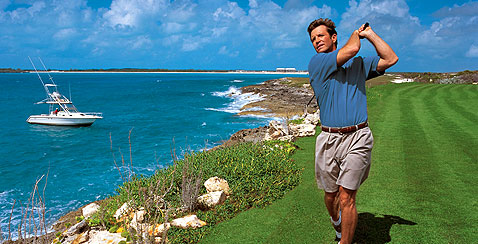 Grand Isle Resort & Spa, Great Exuma
This 18-hole championship golf course, designed by golf legend Greg Norman and opened in 2003, may be one of the world's greatest ocean-side clubs. Using an environmentally friendly seashore paspalum grass - which provides a lush, deep green canopy - a series of dramatic fairways wind through the oceanfront dunes.
Six signature holes hug the perimeter of Emerald Bay's scenic peninsula, providing unparalleled vistas along the turquoise water. The final holes are on a rocky peninsula that not only provide challenges to golfers, but offer spectacular views of the ocean.
Tee times are available from 7 a.m. until 4 p.m., although times do vary depending on daylight hours. Clubs and shoes are available for rent from the Pro Shop. The club also provides onsite instruction and a driving range. While the golf course is a premiere attraction at this world-class resort, guests return time and time again to be pampered at the private spas and secluded spa garden; and to enjoy the tropical, quiet beach-side pool, tennis and more.