hiking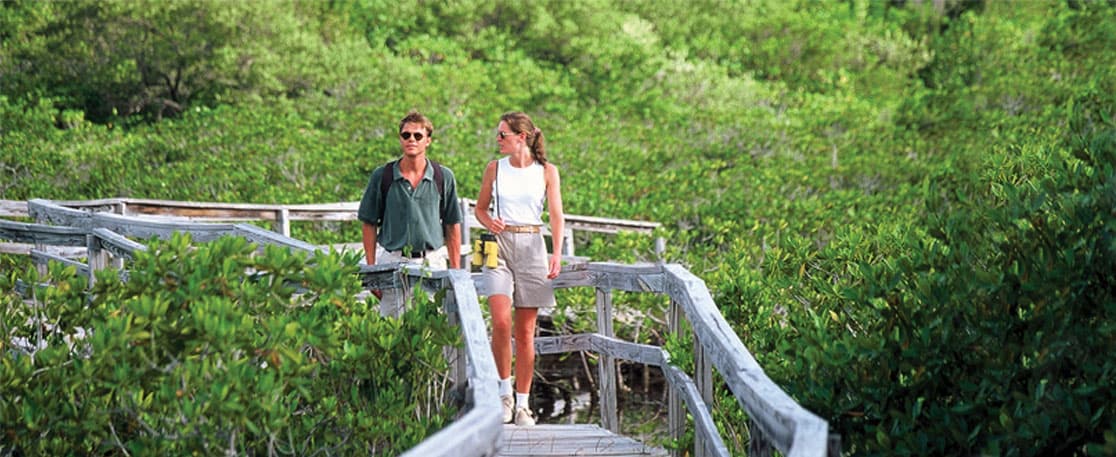 Explore the Out Islands on a hiking nature tour
A nature trail in the Out Islands isn't just about where you're going, but what you'll see along the way
The Out Islands of The Bahamas are famous for the crystal blue water, white and pink sand beaches and every water sport imaginable. But while the Bahamas provides a wonderland for water lovers, there's plenty to explore on land and off the beaten path. Think iguanas, Caribbean parrots and stunning orchids in every color imaginable. You'll see all of this and more on an adventurous Bahamas nature hike.
Hotels and resorts on each of the Out Islands provide a variety of nature trails and hikes. You can choose to join a guided tour, or head off on your own to explore. Check with resorts for maps and best bets for nature hiking tours.
The Bimini Nature Hiking Trail gives visitors a rarely seen glimpse of the island. You will not only be able to learn more about Bimini's animal and plant life, but also hear stories about the ecology and history of Bimini. Guided tours of the nature hiking trails are led by professionals, who provide a hands-on experience with unique animals on this small island. Even if you venture off on your own, signs identifying plants and wildlife can be found along the trail.
Andros Island is a naturalist's wonderland thanks to numerous deserted beaches, "blue holes" (fresh- and salt-water-filled caves found inland and in the ocean, respectively), pine forests, mangrove marsh, and the carefully protected fresh water reservoir. Tour Forfar Field Station in Blanket Sound. This international research facility for studies in tropical ecology and marine biology offers inland nature hikes and offshore expeditions. A nature hiking trail explores the island's flora and fauna and medicinal plants. Guided nature walks, kayaking and bird watching tours can be arranged through a number of hotels.
Small Hope Bay Lodge, also on Andros Island, hosts several bird watching groups and nature hiking to a variety of locations in North and Central Andros throughout the year guided by Dr. Mike Baltz of the Nature Conservancy.
Andros Island is about 2,300 square miles and may be the largest tract of unexplored land in the Western Hemisphere. Andros is dominated by thick, impenetrable bush, sliced in pieces by inland waterways and edged by mangrove swamp. To the north are hardwood and pine forests — including Andros Pine, Mahogany (Madeira), Horseflesh and Lignum Vitae, making this a challenging and exciting island to hike and explore.
Nature hike up the highest point in the Bahamas on Cat Island. Mount Alvernia is the highest point at 203 feet above sea level. The mount is capped by the Hermitage, a religious retreat. Father Jerome (the former "father confessor"), built the small monastery entirely by hand.