bonefishing
Bonefishing The Bahamas Out Islands
Bonefishing is an addiction, and The Bahamas Out Islands are the best place in the world to feed it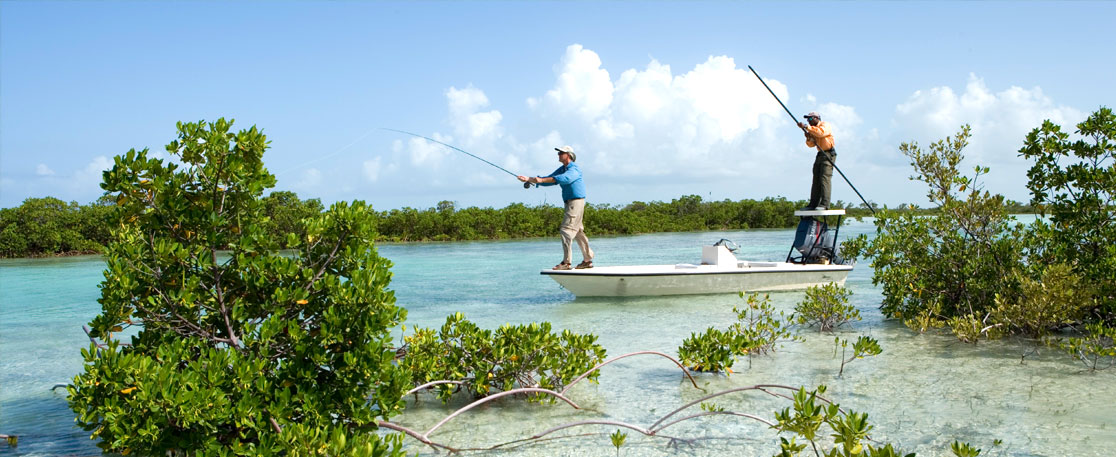 New Bahamas Flats Fishing Regulations came into effect on January 9th, 2017. Visit www.Bahamas.GOV.BS/marineresources (under "Notices") for Flats Fishing Regulations and Flats Angler Application.
Submit Application To: Minister responsible for Fisheries Resources at fisheries@bahamas.gov.bs.
NOTE: Fishing lodge owners and guides are allowed to complete and pay for licenses on behalf of expected visitors before arrival in The Bahamas.
Cost of License: Day License (valid day of issuance only) - $15.00; Weekly License - $20.00; Monthly License - $30.00; Annual License - $60.00.
Some Things To Note:
These regulations will require all persons using the flats, such as guides anglers and DIYs to have a license issued by the Department of Marine Resources in New Providence, or the Family Island Administrators in the Family Islands and soon the licenses will be issued online.
All guides are expected to be certified over time by the Ministry of Tourism and the Department of Marine Resources, in conjunction with approved fly fishing associations in The Bahamas.
Bahamian certified fishing guides must be used if two (2) or more anglers are fishing in the flats by means of a vessel (skiffs, etc.)
Only Bahamian-registered vessels will be allowed on the flats.
Only Bahamians will be allowed to work as guides.
All anglers over the age of 12 will need a license to fish.
Do-It-Yourselfers or DIYs will not need a fishing guide.
A conservation fund will be established for the conservation and management of the flats and its fishery resources.
No commercial fishing will be allowed on the flats.
The fishery covered by these regulations include bonefish, tarpon, cobia, and permit.
The fines and penalties as set out in the regulations will be strictly enforced.


Why all the fuss about a little silver fish? Anyone asking that question has never stalked the beautiful flats of the Out Islands. Bonefishing brings together skill, finesse and stealth like no other form of fishing. There's no half-million dollars of boat under you, no big winch of a reel and thick rod. Instead, you're either wading on foot or balancing on the casting deck of a small boat designed for "skinny" water. You are equipped with good sunglasses, a wisp of a rod and a lure about the size and weight of a… well, a fly. Your quarry is the bonefish, a mirror-finished flash of a fish with bright eyes and a soft underslung mouth designed to suck down clams, crabs, and shrimp.
The Out Islands — The Perfect Bonefish Habitat
The Out Islands, with miles and miles of pristine flats and productive seagrass beds, are perfect bonefish habitat, and the fish reside in vast numbers throughout the entire chain. There are so many bonefish in The Bahamas that they often form schools so large that when they're feeding on the bottom they kick up enough sand – called "mudding" – that it's visible from your plane as you fly over. In other fishing destinations you may have just a few chances to cast to fish each day, but in the Out Islands, steady action is the norm. That doesn't mean, however, that they're easy to catch. Bonefish are notoriously wary – they're hunted by lightning-fast barracuda, and stay on constant alert, spooking and running at any strange vibration, splash or even a shadow.
Test your bonefishing prowess in the Out Islands
Fishermen must use stealth in their approach and have to spot the fish before making a well-placed cast that presents the lure without spooking the bonefish. Fortunately, the Bahamas is home to the finest set of bonefish guides in the world. Until your eyes begin to adapt, you'll swear the guide is pointing at nothing. Trust him, though, cast where he says, then give your line a little tickle… and suddenly, the line will pull taught and begin tearing off the reel. Try to lift your rod and it will bend double as the bonefish takes off on one of their truly incredible, blistering runs. Play the fish right, and after another spectacular run, you'll have him next to you for a quick photo, a "thanks for the memory!" and a release back into the water.