Big Game Fishing in The Bahamas' Out Islands
Big game fishing in The Bahamas offers big-time thrills.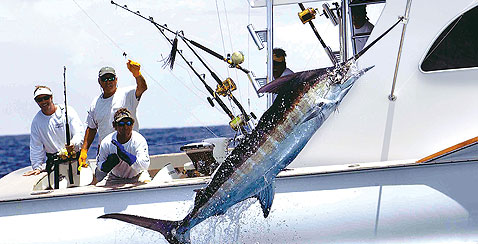 There are no creatures more perfectly suited to their environment than the ocean's top gamefish: the white or blue marlin, tuna, wahoo, dolphin (mahi-mahi) or sailfish. For an angler, there's no greater challenge than pitting yourself against one of these fish that can provide the adventure of a lifetime. The fight against a big blue marlin, tuna or wahoo can last for hours – and will be an experience you will never forget. Yet no one who's ever done it would trade away a moment of the experience because there's nothing more rewarding for a sportsman than having risen to the challenge, out-finessed and out-muscled one of the sea's spectacular prized catches. While billfish are released to fight again, a wahoo, tuna or mahi-mahi will provide a great feast for the dinner table.
The Out Islands, lying alongside some of the world's best big-game waters, offer many chances to experience the heart-stopping sight of a marlin or tuna crashing after a trolled bait, to hear the snap of an outrigger followed instantly by the scream of a reel as a great fish rips away line, and for you to climb into a fighting chair and grab hold of a stout rod alive with the power of a huge fish. Some of the most productive hot spots are: Cuban Hole off Cat Cay just south of Bimini, James Point off Harbour Island, the south end of Eleuthera, the "Hump" and the leeside drop-off at San Salvador, Tartar Bank off Cat Island, Southeast Point off Rum Cay, the northern tip of Long Island, and Diana Bank near Crooked Island and Acklins… to name a few.