kayaking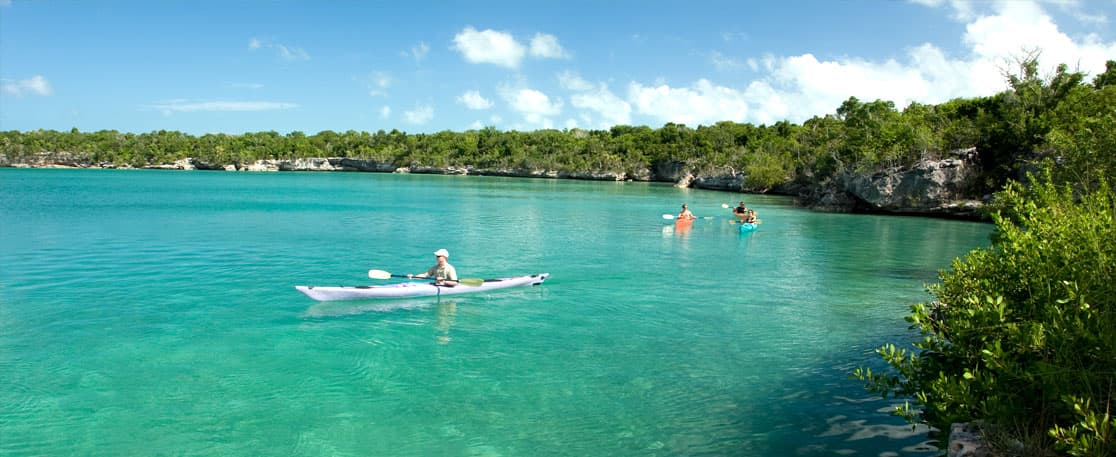 Explore the Out Islands of The Bahamas by Kayak
Bahamas Kayaking is as close to the warm, clear waters of The Bahamas you can be without actually being in the water
Slide into a sea-kayak and meander along the shore at your own pace, exploring coves, mangroves, bonefish flats and watching sea life as it quietly drifts beneath you. By kayaking in The Bahamas you can explore uninhabited cays, hidden caves, blue holes, blow holes and isolated beaches you never knew even existed. Resorts and hotels offer kayaks for your leisure, but you'll also find guides and adventure kayak trips throughout The Bahamas.
Because of shallow waters along shores and cays, a kayak is the perfect way to really explore the islands and experience the natural beauty of the Out Islands of The Bahamas. Tour lagoons and ponds and the native jungle of The Bahamas, rich with bird and marine life.
One of the best ways to explore the 365 acres of the predominately uninhabited Exumas National Land and Sea Park is on an eco-expedition. A sea-kayak allows you to enjoy the white-sand beaches, and when the mood is right, hop into the water and snorkel along the reefs to get even more up-close-and-personal with the sea life.
Those looking for a more intensive Bahamas kayaking adventure can book a kayak trip through the Out Islands of The Bahamas. For example, Starfish Exuma Adventures will take you on an eight-day kayak trip where you'll explore The Exumas, spend some nights on the white-sand beaches and others in the comforts of a hotel in or near Georgetown. In addition to two beautiful coastlines, the island of Eleuthera boasts many inland lagoons and ponds, meaning safe, comfortable kayaking conditions in almost any weather, plus the area is rich in bird and marine life.
Hotels and resorts can be your best guides, as many will provide maps, guides, and kayaks for you to explore at your own pace. Resorts and hotels offering kayaking include Sammy T's and Fernandez Bay Village on Cat Island; the Cove on Eleuthera Island; and Hotel Higgins on Exuma Island, where you'll want to explore Turtle Lagoon, Mystery Cave, and the famous Blue Hole—once a dive site for Jacques Cousteau.
Kayak through hidden cays, exposed sand bars, and pristine beaches at Staniel Cay Yacht Club. Kayaks also are available for guests at Exuma Palms Hotel, Ramora Bay on Harbour Island and Stella Maris Resort Club in Long Island.