snorkeling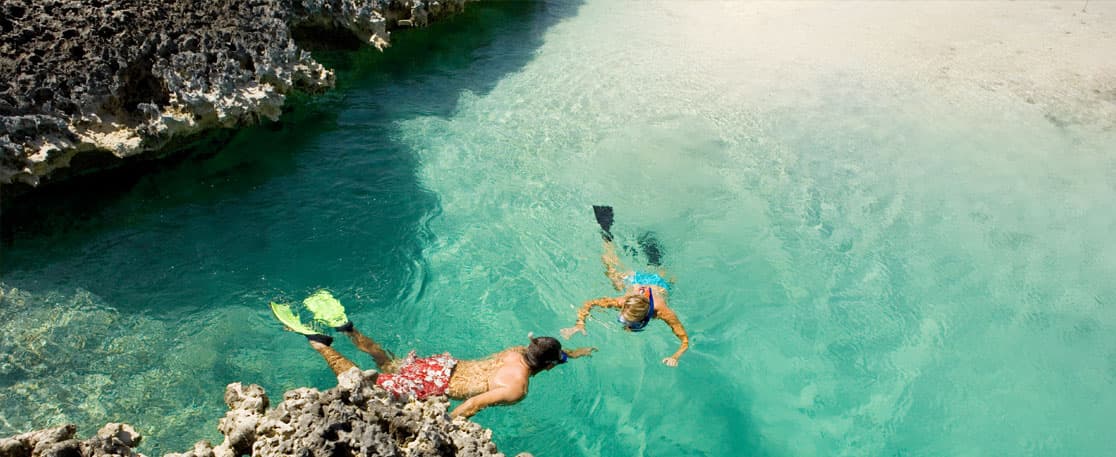 Snorkeling in the Bahamas Out Islands
Get up-close and personal snorkeling with Bahamas sea life
When you travel to the Out Islands of The Bahamas, you'll be encouraged to experience nature on land, and especially by sea. One of the best ways to really get to know and understand the fish, coral reefs and all those ship wrecks is not to stand in a crowded tunnel of a glass aquarium at one of those glitzy high rise resorts, but to put on a pair of goggles, grab some flippers, and dive right in. Explore on your own right off the shore or the popular flats, or take a snorkeling tour in the Out Islands of The Bahamas. Bahamas snorkeling is one of the more popular activities when visiting the islands.
Clear, blue water that's calm most days where the shallows actually sparkle, and light bounces off the white sandy bottom of the ocean floor. There are miles of lush coral reefs all around the Out Islands of The Bahamas. This all makes Bahamas snorkeling easy for first-timers, while there's plenty of excitement for veterans, whether they are exploring the bight on Andros or one of the many blue holes or cays that are so prevalent on the islands. Every island is surrounded by shallow reefs, many of them within a few feet of the surface. As you travel farther out into the water, tens of thousands of shallow water sites on the banks are peppered with coral heads and reefs. Take your snorkel gear and pack a lunch on board a sea kayak or Hobie sail boat and explore the day away, just a few minutes from your resort.
Unlike diving, where you need special gear and training, pretty much the only prerequisite is swimming and a general curiosity for the underworld. Most of the resorts, lodges and hotels have all the snorkeling equipment you need, many offer daily Bahamas snorkeling trips, others will refer you to local snorkel guides or best bets for your own snorkeling adventure.