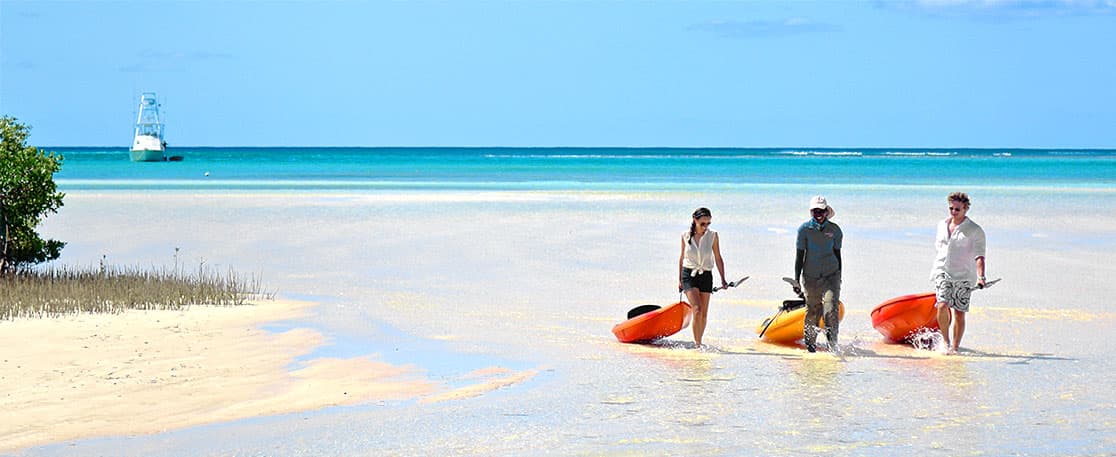 See the Out Islands of The Bahamas With a Bahamian Ambassador
The authentic spirit of our islands shines through when you see The Out Islands through the eyes of a local
If you love getting to know the people and out-of-the-way places that make an island truly unique, The Bahamas' People-To-People Experience is a not-to-be-missed opportunity. This long-established program connects visitors with Out Islanders who revel in sharing their island culture and day-to-day way of life. The program is free and signing up couldn't be easier.
No Two Experiences Are Ever The Same in the Out Islands
Want to learn how to crack conch like a local? Visit a local museum? Lend a hand at an after-school soccer clinic? People-To-People experiences are as varied as the people who visit the Out Islands – but one thing is certain: You'll experience the genuine warmth of The Bahamas through the eyes of a Bahamian Ambassador - and leave with memories and new friendships that will last a lifetime.
Get Started
Testimonials
"Amazing Experience in Abaco" We were matched with Mrs. Glender Knowles. Her knowledge of the island, friendliness and willingness to help with anything we had questions about was astounding. She also helped organize a traditional Bahamian dinner that was simply out of this world. This was a once in a lifetime experience that my family and I will treasure forever!
---
"Absolutely wonderful! Do it!" Trina Lloyd-Cooper & her husband were absolute gems. I miss them terribly, they are now our family. A couple that's been married for over 20 years, their love for one another resonates in everything they do. They are such sweet spirits with hearts of gold. On our last two days, they even cooked dinner for us! And not just any dinner, but a Bahamian dinner!! We ate conch fritters, cracked conch, fried chicken & cracked lobster, veggies & Bahamian potato salad. It was all so GOOD! I truly love these guys, they treated us like family & we still keep in touch to this day. – Bryon & Jeannine
---
"A great experience!" Our first family trip to the Bahamas was enriched beyond measure by our gracious P2P hosts, Mahalia and Graham. From the moment we touched down, Mahalia called to check in on us and provided helpful tips. The next day, they met us and ensured we had everything we needed. They were lovely with our children and provided us a guided island tour, including helping us get a golf cart and bicycles. We enjoyed an amazing Easter lunch with Mahilia's family and had some big adventures on the high seas visiting Green Turtle Cay. Our trip would not have been the same without them. We feel we made great friends who we are certain we'll see again soon.
Meet Our Ambassador

Keith Saunders
A devout family man with a fun-loving spirit, Keith was born on the island of Eleuthera and loves the outdoors, backyard living, traveling and meeting people and understanding the structure of their culture and how it compares to his.