Bimini is The Sport Fishing Capital of The World
One of Ernest Hemingway's favorite "Islands in the Stream," Bimini attracted the famous author for the same reason it attracts many sportsmen today: world-class fishing.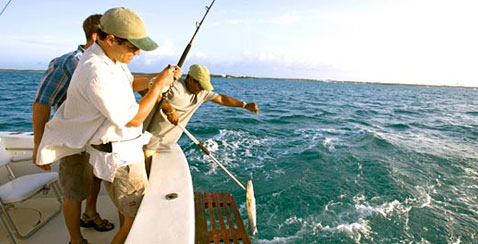 Hemingway lived on Bimini for several seasons in the 1930s. While here, he worked on To Have and Have Not and wrote a few articles, but mostly he played hooky aboard his boat Pilar, trolling the deep blue offshore waters for huge marlin, tuna and swordfish. Hemingway had been lured to Bimini by tales of the incredible fishing available in the Gulf Stream, the legendary "river" of warm water that rushes north past The Bahamas. Sitting at the very edge of The Stream, the two small islands that make up Bimini are perfectly located for easy access to the tropical current, which acts as both a highway for migrating fish and as a kind of sushi conveyor belt that carries abundant food to the local fish, allowing them to grow to record size (more than 50 record-setting catches have been made in the waters around Bimini). And it's not just the deep water over the edge of the drop-off that offers angling opportunities: Bimini's flats are home to the fly fisherman's favorite prey, bonefish and permit, and local wrecks hold big grouper and schools of tasty snapper. From the back bay to the deep drop-off, Bimini earns its title as sport fishing capital of the world.
Anglers will find great fishing around Bimini year-round, but certain seasons are prime for specific game fish. Winter is when you've got the best shot at mackerel and wahoo, those bluewater beauties that have the strength of a sailfish, the teeth of a barracuda and the speed of a surface-to-air missile. You'll want to have the fighting chair rigged and ready in spring and summer for blue and white marlin, sailfish, dolphin (mahi mahi) and bluefin tuna. Though the fishing for them is good all year, the summer months, when the water is calmest, is the best time set up over the wrecks and reefs for grouper, snapper and barracuda. On the flats, summer is also when the permit are on the hunt around Bimini. And bonefish, the stars of the shallow water? Don't ever forget your fly rod or light spinning tackle when you come to Bimini, because the fishing for these silver streaks of lightning is excellent all year long.