dive guide
Bahamas Out Islands Diving Guide
Diving in the Out Islands of The Bahamas is a diver's dream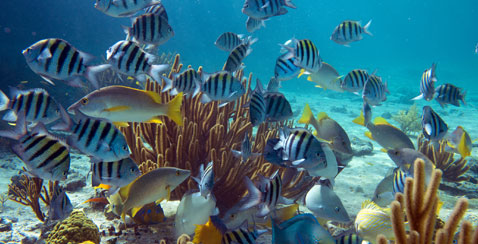 Few places in the world offer a wider variety of diving opportunities than The Out Islands, including wrecks, reefs, blue holes, sea gardens, caves, walls, shallow shoals and encounters with dolphins and sharks. With hundreds of islands, thousands of dive sites and a yearlong diving season, with water temperatures ranging from 76ºF to 84ºF it's easy to understand the allure.

Shark Diving
To those unfamiliar with the day to day patterns and behavior of sharks, it seems almost unfathomable that anyone would willingly put himself close to them. This, however is precisely what is happening everyday in The Bahamas. Here, divers are given the chance to observe these magnificent marine creatures at very close range in a surprisingly safe fashion.

Long Island was the first area to see shark feeds performed on a regular basis. This started some 20 years ago and the method has remained largely the same throughout that time.

Sharks are circling as divers hit the water. After the divers position themselves with there backs to a coral wall, the feeder enters the water with a bucket of fish. This is placed in the sand in front of the divers and from there the action develops quickly. While Caribbean Reef Sharks make up the greatest portion of the 50 to 100 participants,
divers have seen Lemon Sharks, Bull Sharks, Hammerhead Sharks and other species.

What you need
All Bahamas dive operators maintain equipment for instruction and rental by certified
divers. Just remember to bring your C-card. Divers can use Lycra, Darlexx and Polartec suits during late spring, summer and well into the fall. During winter, experienced divers usually bring along a neoprene shorty or
jumpsuit as well. Operators do have wetsuits for rental.

Diving Season
The Bahamas has a year long diving season with water temperatures ranging from 76 F in the winter in the Northern Bahamas to 84 F throughout the Islands in the summer. The topside temperature is fairly constant during the year, averaging about 82 F (except in the northwestern Bahamas, which are somewhat cooler in the winters), and usually accompanied by a mild breeze.