Where to go bonefishing in The Out Islands
From north to south in the Out Islands you'll find dedicated bonefish lodges (best suited for fishermen only, as non-fishing friends and family will find little else to do) as well as professional guides who book charters out of nearly every other beach resort and hotel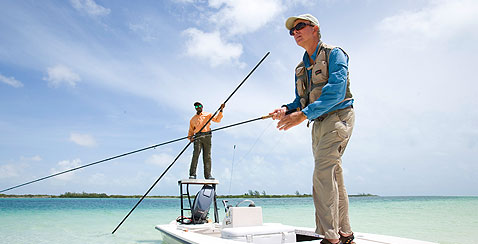 Bonefishing in The Exumas
In The Exumas, Airport Flat, White Bay and Channel Cut are favorites around Great Exuma.
Bonefishing in Andros
Huge Andros, split and splintered by watery bights and cuts, has incredibly varied bonefishing. The best spots around North Andros include the Joulter Cays, while in South Andros, guides head to Deep Creek and Little Creek as well as the legendary west side and southern tip of the island where many of the prime fishing grounds have barely been unexplored.
Bonefishing in Bimini, Cat Island and Eleuthera
The flats that join the two Bimini together are an ideal bonefish haunt, as are both the northern and southern ends of Cat Island -- which offer both tidal creek flats and ocean-side flats -- and the flats and creeks at the north end of Eleuthera.
Bonefishing in Long Island (The Bahamas)
Long Island has some of the best wading flats anywhere, many within a 5 or 10-minute ride from the island's hotels, Stella Maris and Greenwich Creek Lodge, and vast areas around Deadman's Cay and Sandy Cays.
Where to stay in Long Island, The Bahamas »
Bonefishing on Crooked and Acklins Islands
Crooked and Acklins islands together embrace enormous areas of virgin flat, and like areas around all the Out Islands, are ready to be discovered by adventurous fishermen armed with excellent local guides.
Where to stay in Crooked Island »